Are you stuck in a job that isn't a good fit and don't see a way out? Or maybe you're just starting out in your working life and don't know what to do? There are options other than traditional four-year universities to serve as your gateway into a new industry.
Endless career opportunities are waiting for those who have the creativity, drive and determination to pursue them. Not everyone is cut out for traditional four-year universities, nor perhaps, have the ability to take the time away from their job or family to make that kind of commitment, but that doesn't mean they can't find success elsewhere. Trade schools offer an alternate path to getting started in your career. You can learn valuable skills in as little as weeks or months, which can give you the boost you need to start climbing the ladder in an entirely new field.
1. What is trade school and what are the benefits over traditional four-year universities
A trade school is a postsecondary educational institution designed to train students for a specific job in a skilled trade career. Trade schools offer hands-on training to prepare students for actual work in their chosen field.
2. How to get into trade school
There are not typically as many barriers to getting into a trade school as there to a two- or four-year institution. While you should always review the requirements to entry, many times the requirements could be as simple as having a high school diploma or GED.
3. The cost of trade school and ways to finance your education
Trade school programs could cost anywhere between a couple of hundred to a couple of thousand dollars, while two- and four-year institutions can cost tens of thousand of dollars per term. The cost isn't only in money, although that is a large contributing factor, also consider the cost of your time. If you have a family to support or an inability to make a large financial commitment, can you afford to take years away from a job? Most programs at trade schools can be completed in weeks or months. Giving you the ability to quickly get trained in a specific, demonstrable skill that will allow you to work in your chosen field and also gain credentials that are recognized by the industry.
4. Job placement rates for trade school graduates and average salaries
The job placement rate is very high in trade schools, with graduates leaving in demand. In fact, according to Finance Online, health care careers, for example, is expected to growth 18% between 2018 and 2028, much faster than the average. The Bureau of Labor Statistics even lists the median annual salary for Healthcare Support Occupations, roles that include nursing assistants, at $44,650. The availability of jobs for a graduate with a marketable credential is plentiful. Just check one of the popular job search sites for a credential to see what the available need is in your area. (In New Hampshire, I recommend searching for LNA, MNA and LPN).
5. The types of jobs that can be obtained with a trade school degree
There are way too many to list, the options are limitless! Is a career in healthcare your dream? Licensed Nursing Assistant, Medication Nursing Assistant, Licensed Practical Nurse and Certified Phlebotomy Technician, to name a few. A good starting point would be searching for what kind of certifications you can obtain in your desired field that you can earn at a trade school.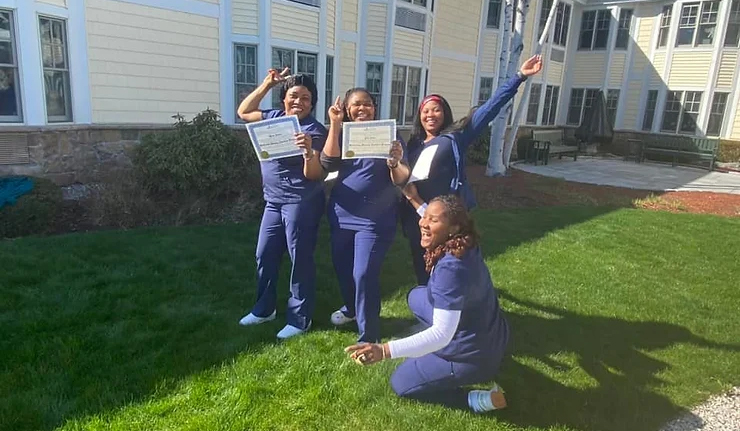 If you're looking for a career in healthcare, consider a trade school like LNA Health Careers. We offer affordable and fast programs that can help you jumpstart your career in as little as a few weeks to a few months. With our hands-on training and industry-recognized certifications, you will be ready to start working healthcare. Check out our website today to learn more about our programs and get started on your new career!