In-Person & Blended Courses
In-Person & Blended Course Schedules
Licensed Nursing Assistant Program (LNA)
Flexible Schedules. Experienced Staff. 12 Locations In New Hampshire.
LNAHC has private classrooms in Manchester and Meredith. All other classrooms are located in the facility where the training is held. All private classrooms are fully equipped with simulated clinical rooms, complete with semi-electric beds, hand-washing facilities, wheelchairs, walkers, lifts and all other supplies necessary to provide a positive, hands on learning environment. Our other training facilities are located throughout Southern NH: Manchester, Concord, Derry, Bedford, Nashua, Goffstown, as well as Laconia, Franklin, Dover and Keene.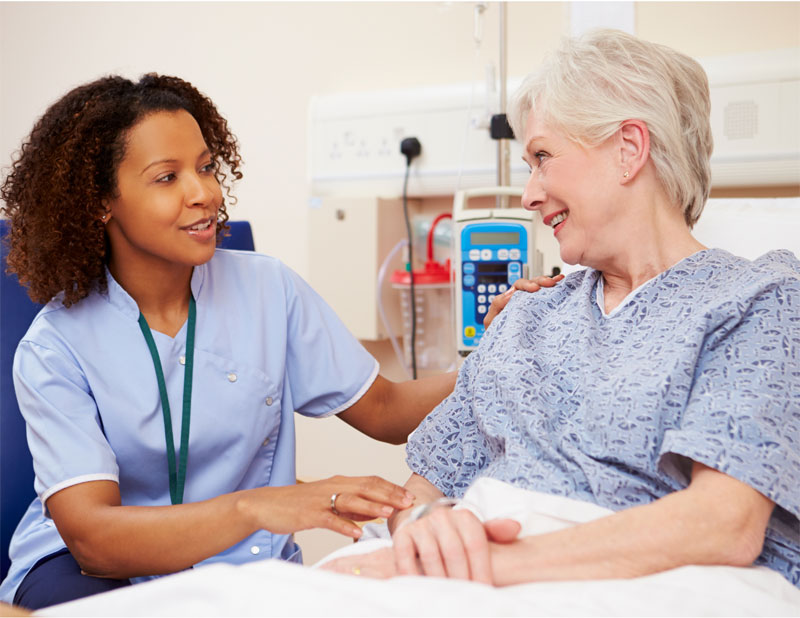 LNA In-Person Course
LNA Blended Course
LNA Theory Online
LNA In-Person Course
The LNA program consists of 110 hours of training.
Students participate in 50 hours of classroom and lab and 60 hours of clinical where they are actually caring for the residents in their training facility.
Learning is achieved through class lectures, video, discussions, role-playing, hands-on laboratory skills training and demonstration and clinical practice, our students learn procedural skills such as bathing, dressing, vital signs, positioning, safety, and prevention skills.
In addition, qualified resource professionals may be incorporated to facilitate learning opportunities to our students.
Students learn communication skills through instruction that will assist them in the profession and beyond.
After students graduate from LNA Health Careers, they are eligible to take the State Board Examination to become a Licensed Nursing Assistant (LNA).
Classes are held in many facilities throughout New Hampshire. Schedule or Directions.
Course Fees:
Registration Fee (non-refundable): $450
Supplies Fee: $175
Criminal Record Check: $25
Tuition: $1,350
TOTAL: $2000
LNA Blended Course
LNA Theory Online
*Please note: LNA Health Careers cannot accept transfer of credits from any other institution, nor does our LNA program provide transfer credits to any other institution.
LNA Program Admission Requirements
Applications for admission can be submitted online through our website, by mail, fax or in person at our admissions office. Interested candidates must meet the following criteria:
16 years of age or older. A High School diploma and/or GED is NOT required for the LNA program.
A passing grade of 70% or higher on the pre-entrance exam (available with the application)
COVID Vaccine
2-Step TB (this takes 2 weeks)
Free from any felony convictions. (Misdemeanors and violations will be considered on a case by case basis and must be disclosed on the initial application. We run criminal record checks on all of our students.)
Individuals whose primary language is not English may be asked to complete further English competency testing in Manchester. This is to ensure your success in the program.
Let us help you begin a rewarding and stable career in healthcare!
Please download our course handbook to view Student Protection and Disclosure Policies
What We Offer Our Students
Day, evening and weekend class schedules to fit your busy schedule. We understand that many of our students have other responsibilities such as families, full or part time jobs and other forms of education that they need to work around in order to get their LNA license. We try to offer many different class options to fit all types of schedules.
Traditional (100% In-Person) Classes held in over 12 convenient locations throughout the state of NH.
Highly experienced Nurse Instructors. All of our Instructors are NH Board of Nursing approved and are sent through a training program where they must demonstrate their ability to teach effectively. All of our Instructors have had previous experience in long term care prior to teaching, as well as a variety of other Nursing experience that they will share with their students.
Small class sizes. Classes are limited to 8 students to ensure individual, one on one attention with the Instructor.
Accelerated class schedules available. You can complete the course in as little as 3 weeks with our full time program!
There is no additional fee for the State Exam and it is always held within one week upon course completion. We provide our students with same day verbal test results as well.
An overall course pass rate of 99%
Tutoring available. At any point during the program should a student desire a tutor, we will provide one for an additional fee. We are here to help you to succeed in reaching your educational goals.
Job placement assistance.
On the first day of class, we will provide our students a list of facilities that like to hire our new graduates. It includes all of the contact information to help get you started on your job search.
Jobs Board access. We maintain a JobsBoard on our website that is password protected and exclusive for only our graduates. Many times, employers will contact us looking to hire our graduates and fill their LNA positions. We post those open positions on our JobsBoard for our graduates to pursue.
Recruitment Presenters. On the last day of class, most classes will have 1-2 employers come in and present employment opportunities with their companies. These presenters are required to be actively hiring in order to come present.
A fully staffed Admissions Office available to assist you from enrollment through the licensure process.